Proper window selection should consider two characteristics, the frame material and a thermally efficient glazing system to render the lowest U value (thermal conductivity). The framing material in fiberglass window systems offers window frames that promote condensation resistance, dimensional stability and durability. The use of fiberglass window systems also offers superior thermal resistance with proven energy savings.

Expansion and contraction of the window frame is critical to maintaining dimensional stability. Under temperature variation similar materials perform the best together. So
if the molecular chemistry in the frame is similar to that of glazing in the unit the two materials complement each other and function synergistically together, commonly referred to as "glass on glass". This very low expansion contraction ratio
allows for seal protection from failure as well as sustainable caulk integrity between jamb and the wall. Inline manufactures windows that offer this performance.
The fiberglass window frame is strong, plumb and true which allows for ease of installation. The continuous fiberglass roving reinforcement in the matric composite lends high strength and durability to the lineal sections. This means that tall casements frames will not bend or bow.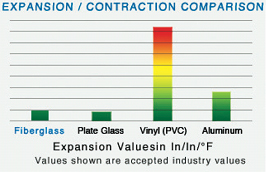 Fiberglass frames will not rot, or crack, sag or creep over time. They are ten times stronger than vinyl. Fiberglass frames resist UV (Ultra Violet) degradation and will not corrode. Fiberglass frames will not distort in a wide range of temperatures (i.e. -50o F up to 350o F).
In the Canadian climate, with a wide variation of exterior temperatures, fiberglass window frames are one way of future proofing your home.