What is the HERS Index?
Using the HERS Index for Code Compliance and Better Than Code
Homeowner Awareness – PFP can customize your homeowners
Project FutureProof: A Canadian HERS Provider using the Better Than Code Platform
This Platform helps Builders with Municipal Approvals, Subdivision Agreements and Building Permits. Navigating the performance path can be complicated. A code change is coming in 2017 which will cause more confusion. The new code will notionally be 15% better than 2012 (HERS 51).
How are you getting there?
Let the BTC Platform including the HERS Index help you secure Municipal Subdivision Approvals and Building Permits and enhance your marketing by selling your homes energy efficiency.

Better Than Code
This rating is available for homes built by leading edge builders who have chosen to advance beyond current energy efficiency programs and have taken the next step on the path to full sustainability.
For more information email info@projectfutureproof.com or call us at 416-481-7517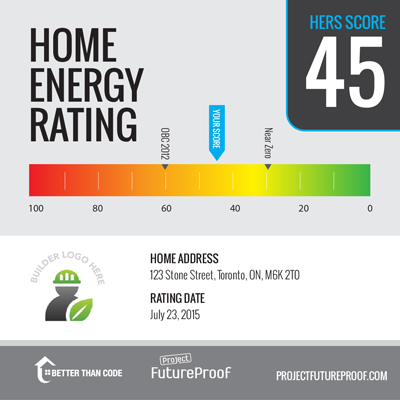 Sign Up for Better Builder Magazine
---
Our Blog
---